Unified multi-seedboxes experience & brand new jobs manager
A brief overview of two major features that came with the latest Seedbucket v3.0.0 update!
Keep reading to find out more...
Multi-seedboxes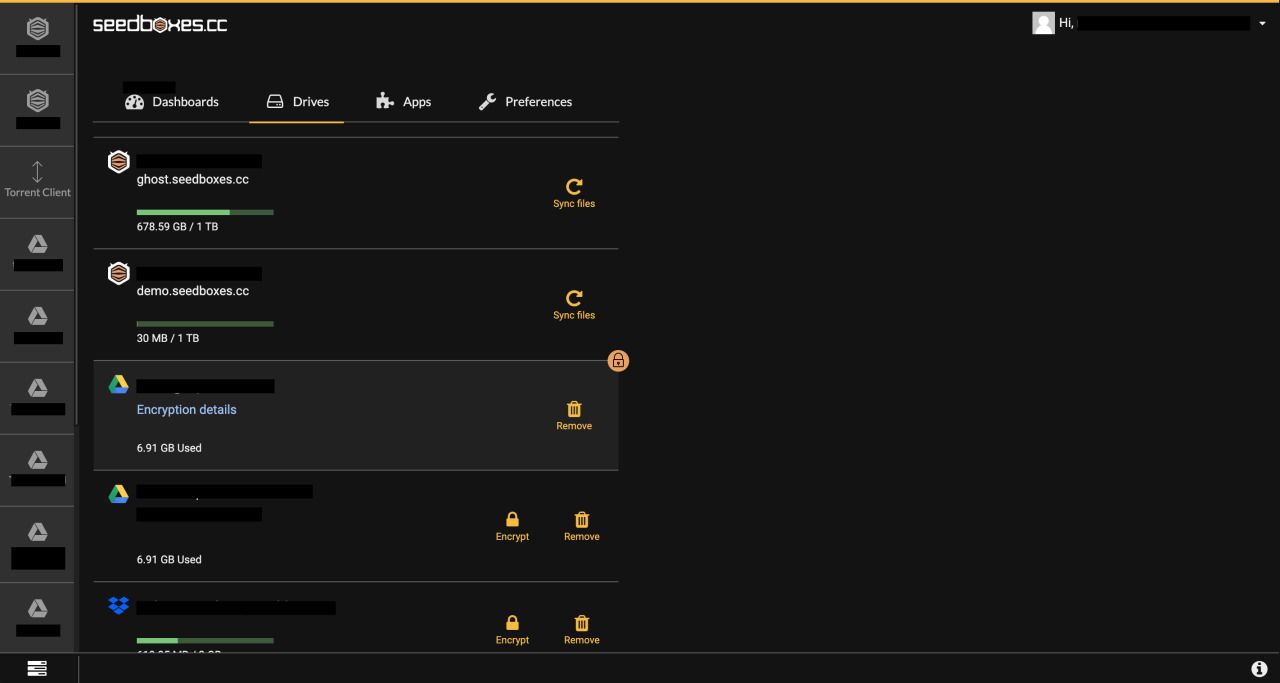 A unified experience for multiple seedboxes is now introduced! Advance your powerful file and torrent management from a single endpoint, having everything you need at your fingertips.
From version 3.0 and above, you can access all your seedboxes accounts through Seedbucket! Why is this a breakthrough? Firstly, this feature enables you to minimize workload, switches between interfaces, and essentially excessive and useless clicks, moves, and transitions. Secondly, having all your accounts in one place provides you with an immediate connection between them, making it even easier to send files from one to another.
This feature is available to users who have purchased more than one seedbox, regardless of their chosen plans. Bear in mind that if a seedbox is terminated for whatever reason, it will no longer appear in Seedbucket.
So, how will this happen? Magically! Well, it may appear as magic, but a lot of work was involved for this feature to reach your screen. You don't have to do anything special; just log in to Seedbucket with your seedboxes.cc e-mail, and password.
Your seedboxes will appear on the left and at the top of the main sidebar as separate dashboards. Each of these dashboards is named after the respective seedbox username, which also appears in the seedbox list at your seedboxes.cc client area, from where you can manage its files.
Respectively in the torrent client dashboard, all seedboxes' connections are added to the connection manager list. Select the button with the plug icon on the top right of the torrent list to open the connection manager and access all the available connections.
All your seedboxes are also listed in the drives list, which you can access through your settings. From there you can sync their files with Seedbucket in the unusual event that's needed.
You can also check the installed apps in the Apps list section, which you can access through your settings. Only a few apps are listed there for now, as the development process continues till we add everything!
Now that all your seedboxes "live" in the same world, let's take some action to leverage this! Say for example that your seedbox A is connected with your Plex to stream media, but you have stored your series' new episode in your seedbox B. Select the episode from seedbox B file list and copy it straight to seedbox A respective folder.
Once the copy is completed you can watch the episode in Plex! If this looks familiar and it's something you constantly repeat, you can always star a certain seedbox folder to use it as a frequent destination in fewer steps.
Jobs' manager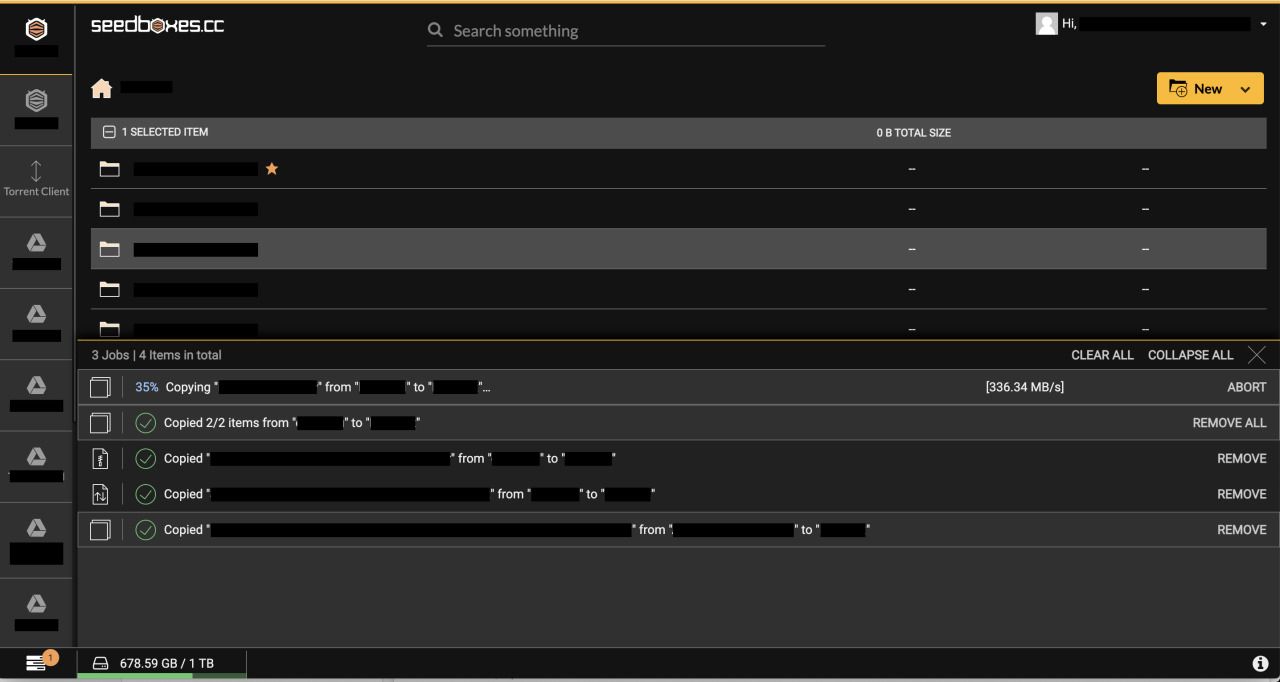 Say welcome to our brand new jobs' manager! This is the center to monitor all your file-related tasks and their progress, freshly designed and ready to shine!
The new jobs' manager is designed as a full-width drawer that can be accessed from the respective icon on the bottom bar left. When open, the drawer sticks at the bottom of the screen, while its height can be customized by dragging its top edge. Even at maximum height, it conveniently leaves the necessary space to continue interacting with the application, though this doesn't apply to mobile devices due to scarce space.
The jobs manager is divided into its header and the main area, where the assigned jobs are listed. On the header, you can find the total number of jobs and the items they refer to. These are identical when each job concerns a single item, i.e. move 1 item, and they defer in case of an assigned multi-item job, such as moving 3 items. On the header right you can either clear your jobs log (except queued and in-progress jobs).  Just click the "Clear All" button, or close the drawer from the X button. On the main area, each job is represented by a row, where the job and its status are described along with the available options. To easily scan a job, you can take a look at the 2 icons on the left. The first one represents the assigned job, i.e. move, copy, etc., and the second shows the job's current status, i.e. a green check for completed jobs, a red x for errors, etc. A progress percent for single jobs or a progress circle indicator for multi-item jobs substitutes the second icon, while the job is in progress. Multi-item jobs appear on an expandable row, which when collapsed discern the concerned items. Each of them is presented with its file type and status icons along with its description and options.
So what can you do with that new shiny toy? Well, firstly, everything you have already been doing in Seedbucket until now but with more style! The new jobs' manager is spacious and neat to contain all the info you need to monitor effectively your jobs. Besides looks, there is also some extra functionality delivered. In particular, handling duplicate items is now improved, while assigning jobs to folders is properly implemented by providing a list of its children that perform the requested job. Enjoy the agility of the files that Seedbucket provides both in your seedbox and other storage drives!
Let's say now, for example, you want to transfer a movie to your external storage drive folder, which you have associated with your Plex account. In the meantime, you would like to do some cleanup in your torrent client, getting rid of forgotten torrents that just use up bandwidth. Well, now, you can do both! Copy the movie to your desired destination, head straight to your torrent client to tidy things, and open the jobs drawer to check on the copy progress. Once it's completed, wrap it up and enjoy the movie!
No need to guess, no need to wait more than needed! The job heads-up comes right in time!
As this is a brief summary of the two major updates, which come with this Seedbucket version, it's a concise representation of their potential. There is so much more to explore though, so keep in touch and check our blog regularly. Deep dive posts to fully utilize these features are coming up soon!